Our priority is the health of your child.
One of the most important ways keep your child healthy is through scheduled immunizations.
Vaccines allow your child to develop protection to dangerous diseases caused by certain bacteria and viruses. Since their development, childhood vaccines have prevented millions of children from becoming sick, becoming disabled, or even dying from preventable diseases. Vaccines are constantly monitored for safety and effectiveness. Esse Health Pediatricians and Pediatric Nurse Practitioners support the recommended vaccine schedule developed by the American Academy of Pediatrics (AAP) and the Centers for Disease Control (CDC).
Vaccine conversations with your pediatrician should begin as early as possible – ideally at prenatal consults/interviews – during pregnancy through the first 2 months of baby's life. New parents can oftentimes feel overwhelmed by the number of vaccinations recommended for their newborn. We are here to answer your questions and are focused on making your child as comfortable as possible during the process.
No one "likes" getting a shot.
We know that injections can cause pain, redness or swelling at the injection site, or produce mild side effects such as a fever and general discomfort. To help reduce the number of injections your child will receive during their visit, we will offer a "combination" shot for some vaccines whenever possible.
What about flu shots?
The Centers for Disease Control and Prevention (CDC) recommends a yearly flu (influenza) vaccine for all children 6-months and older — ideally by the end of October. If this is the first year your child is receiving the flu vaccine and they are 6-months through 8-years of age, then a second follow-up vaccine is required four weeks after the first dose for maximum effectiveness.
Getting a flu vaccine is especially important this season. The flu and COVID-19 cause similar common symptoms. Getting the flu vaccination for your child could reduce symptoms that might be confused with those caused byCOVID-19.
Is it a cold, flu, allergies, or COVID-19? Check our Symptom Chart to compare symptoms for each.
---
Schedule an immunization appointment
If your child already sees an Esse Health Pediatrician, you can call or text your doctor's office to schedule an appointment for your child's immunizations. If you don't have a pediatrician, see our locations to find one near you.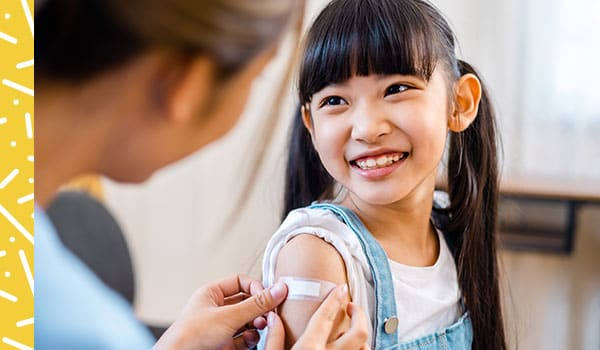 Useful information to prepare your child (and yourself) for their immunizations: