RSV and Your Child: What You Need to Know
Esse Health Pediatrics has seen an early rise in Respiratory Syncytial Virus or RSV cases. While mild in most older children and adults, it can cause serious symptoms and difficulty breathing in infants.
Our own Dr. Ted Kremer discusses signs and symptoms and when you need to get help from your pediatrician.
Kids will get sick. Period.
At Esse Health Pediatrics, our goal is to always keep your child healthy and resilient—but kids still get sick and need medical attention.
To make it as easy as possible for parents and caregivers to bring sick children in for an appointment, we've expanded our appointment times and availability.
Expanded appointment availability
You can now book an appointment for your sick child outside of the 9am–5pm weekday availability. We offer early morning and evening appointments throughout the week as well as Saturday morning appointments. 
Same-day appointments
When your child is acutely ill, there's nothing worse than having to wait for an appointment. Our expanded access makes it possible to book a same-day sick child visit. Just give us a call and we'll find a time that works for you. 
Telehealth appointments 
Depending on your child's symptoms, we also offer telemedicine and telehealth appointments. To determine if this option is right for your child, call or text your doctor's office for more details.
Cold and Flu Season
Cold and flu season often begins in October, with the most cases of flu occurring between December and February. Flu symptoms are often worse for the first few days and then gradually get better over the next one to two weeks. Symptoms include: sudden fever, chills and body shakes, headache, body aches, tiredness, sore throat, dry/hacking cough, stuffy and runny nose.
Learn more about protecting your child from the Cold and Flu Season.
Can I give my child Tylenol, Motrin or Advil?
When your child isn't feeling well, it's natural to want to ease their discomfort. If your child is older than 2 months and is miserable or in pain, you may give Tylenol (acetaminophen). If your child is over 6 months of age, you may give Advil/Motrin (ibuprofen). These medications may or may not reduce a fever but will provide some relief from the discomfort of the illness. 
If your doctor has recommended Tylenol, Motrin, or Advil, please refer to our dosing chart so you can safely dose your child. 
When to call the doctor:
If your baby is a newborn (3 months or younger) and has a fever of 100.4 or higher
If your child is younger than 1 year and has a fever of 102 degrees or higher
If a child has a fever of 104 degrees or higher
or, If the fever (even a low-grade one) lasts more than three days. 
---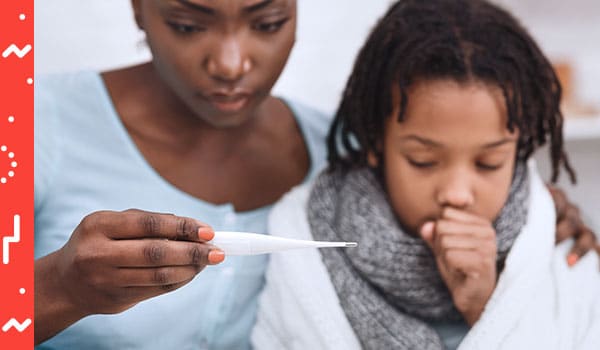 Did You Know?
You can text your doctor's office phone number to schedule, change, or cancel an appointment, ask medical questions, and complete pre-visit forms.
---
Is it a Cold, Flu, Allergies, COVID-19 or RSV?
Symptoms for each illness appear similar, making it challenging to determine what your child may be dealing with. To help you navigate your child's symptoms, download our quick reference guide.