Choosing the Right Pediatrician
If you are expecting a baby, choosing the right pediatrician is very important. To help you make the best decision for your family, Esse Health Pediatrics offices offer you an in-person or virtual Prenatal Consult. 
During this interview you will get a chance to meet one of our pediatricians and ask questions about their approach to caring for your child. This prenatal consult is free of charge.
WHAT TO ASK DURING YOUR PEDIATRICIAN INTERVIEW
Pediatrician Background Questions
Where did you complete medical school or residency?
Are you board certified in pediatrics?
Are you a member of the American Academy of Pediatrics (AAP) or other specialty organization?
How long have you been in practice?
Do you have any areas of subspecialty?
Do you visit newborn babies at the hospital?
At what hospitals do you have nursery or admitting privileges?
How often do you visit a new baby in the hospital?
What do you think about circumcision?
How do you support breastfeeding mothers?
When do we bring the baby in after the hospital?
Pediatric Practice Question
How often does my child need to come in for routine physicals?
How does it work if my child is admitted to a hospital?
What is your approach to introducing solid foods to an infant?
What is your approach to using antibiotics?
What over-the-counter medications can my child use?
How do I communicate with your office?
How are questions over the phone managed in your office? Do you charge for phone calls?
Do you have any after-hour appointments or weekend appointments?
How long in advance must you book appointments?
What diagnostic tests (lab work, strep tests, X-rays) can be done in the office?
How do you deal with after-hour emergencies?
Who covers for you when you are on vacation or not available?
Is there an office reminder system for checkups and immunizations?
What happens if I miss a scheduled visit? Is it easy to reschedule?
Does a nurse practitioner (PNP) work in your office?
What is the scheduled length of your appointments?
Do you have a "sick child" waiting room?
How long will I be sitting in the waiting room, on average?
WHY CHOOSE ESSE HEALTH PEDIATRICS
Esse Health Pediatrics combines the personal connection of a small practice with the ease and access of a large network.
Experienced, Passionate Pediatricians
Our doctors are board-certified, well-regarded physicians recruited specifically for their pediatric expertise and passion for keeping children well. And because we are not tied to one hospital system, we have connections with a multitude of providers and can make the most appropriate referrals as needed. As part of the Esse Health family, you can trust that we will do everything we can to keep your child resilient and healthy.
Flexible Hours, Convenient Locations
Parenting is a 24/7 job, and you have a busy schedule. Our convenient, flexible appointments put your schedule's needs first. Sibling appointments and walk-in hours for sick patients are just a few of the ways we support your family's needs. Have a question? We are always here to answer your questions, offer advice or just to listen. Our doctors are just a text away.
New Baby Handbook
How often should I bathe my baby? How much sleep should my baby be getting? Are vitamins necessary? Find the answer to these and other common questions in our "New Baby Handbook!"
---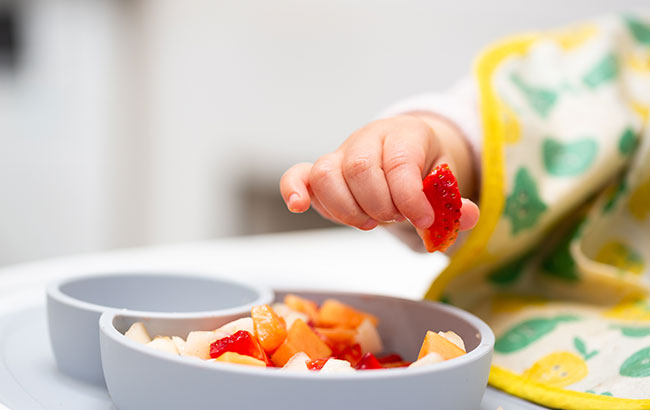 PINCER GRASP DEVELOPMENT IN BABIES


Our own Dr. Peter Putnam was interviewed for an article in Parents magazine about when babies develop their Pincer Grasp. View the article here.